available to fit a
wide range of
chassis brands
THE MARKET LEADING LUTON BODY FOR LCVS
Designed for dry freight or secure loads, the Ingimex Luton van has a market leading payload and is available to fit a wide range of chassis brands and designed to EN12642 XL & EN12640.
Designed and tested to the latest European standards, fitted with an array of features as standard, and easily adapted to allow for the addition of a tail-lift; the Ingimex Luton van is the perfect partner for your LCV chassis.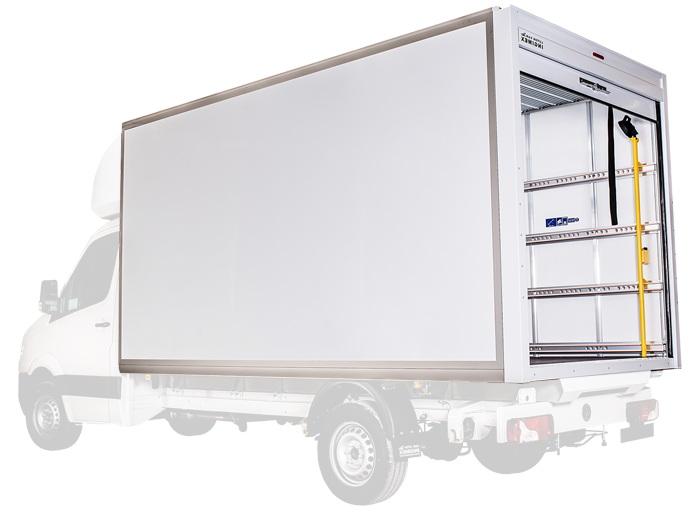 Explore just some of our Luton Van Features

Sides and bulkhead are constructed from durable gel coated ply wood (GRP). No visible fixings gives a clear finish for livery.

An Ingimex designed and manufactured shutter with wide lath interlocking aluminum planks for high strength, no external cables and a smooth finish.

The Ingimex Luton has a foot step is fitted as standard for ease of access to the rear of the vehicle.

Unique to Ingimex; the four tier load restraint system comprises aluminium lashing tracks and soft, non-marking rubber inserts.

The full height grab handle has an integrated interior 360° spot lamp providing illumination throughout the interior of the van as well as the exterior loading area.

Ingimex products are coated to the highest automotive standards to ensure long life and durable aesthetic finish.
Engineered with operator safety in mind
The Ingimex Luton van is fitted with many unique features as standard, such as the four tier load lashing system, the high strength wide lath shutter, the full height grab handle and integrated 360° swivel spot lamp.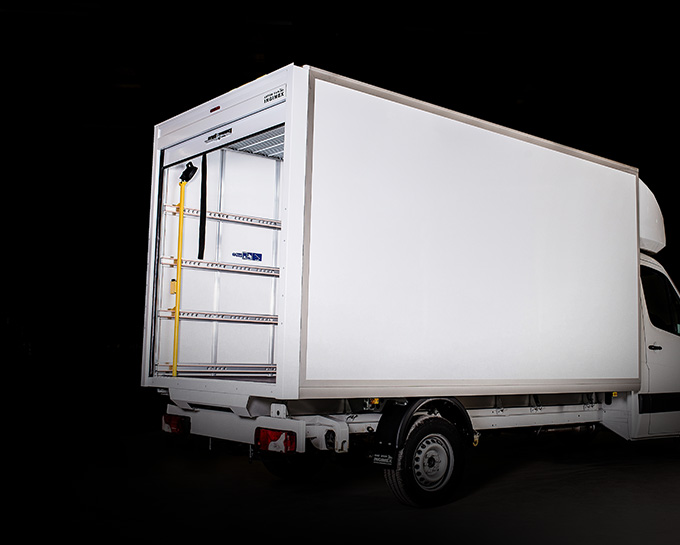 Designed, manufactured and tested in the uk

Comes with a 3 year ingimex warranty as standard
Wide range of optional extras
Our  Luton Van bodies support a wide range of bolt-on modifications to suit your particular requirements, either during initial manufacture or on existing vehicles, contact us to place your orders.