THE MARKET LEADING TIPPER BODY FOR PEUGEOT BOXER
Suitable for both carrying and tipping loads, the Ingimex tipper is a lightweight, high strength body with a market leading payload.
Suitable for carrying and tipping of loose loads, the Ingimex tipper is a lightweight but robust body with a high payload, available to fit a variety of Peugeot Boxer chassis cabs and chassis crew cabs, see the table beneath for more detail and dimensions.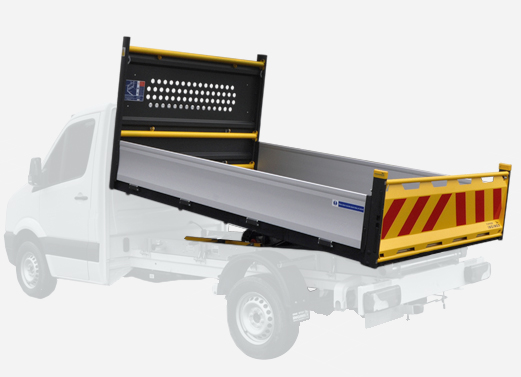 Full height, embossed steel panel construction for maximum protection and visibility

Platform is made from high tensile steel and dip e-coated in a 6 stage process for a long lasting finish

Three level load lashing and a 400kg gantry capacity; you can lash loads of all shapes and sizes

Double skinned aluminium sideboards used throughout, so your body will look good for years

Super strong and striking  tailboard with side mounted locks – no nasty finger traps and a big tipping area

Practical integrated tailboard top lashing rail and high visibility engineering grade conspicuity markings as standard

Designed, manufactured and tested in the UK

Comes with a 3 year Ingimex warranty as standard
Peugeot Boxer Chassis options
The Ingimex Peugeot Boxer Tipper range is available through the Boxer Conversion Programme. Additionally, Ingimex can provide post production conversions for used or in-service Peugeot Boxer chassis cabs.
Designed and tested to the latest European standards, fitted with an array of features as standard, and easily adapted to allow for the addition of optional modifications; the Ingimex tipper is the perfect partner for your Peugeot Boxer chassis.
| CAB STYLE | S/C | D/C |
| --- | --- | --- |
| FRAME LENGTH | L2 | L3 |
| Rear Wheel | SRW | SRW |
| (X)WHEEL BASE(mm) | 3450 | 4035 |
| REAR WHEEL | SRW | SRW |
| (A)Internal Length(mm) | 2869 | 2669 |
| (B)Internal Width(mm) | 2026 | 2026 |
| (B)External Width(mm) | 2087 | 2087 |
| (C)Sideboard Height(mm) | 400 | 400 |
| (D)Tail-board-Height(mm) | 600 | 600 |
| (E)Overall Length(mm) | 5460 | 6110 |
| Body Weight | 490 | 470 |
Wide range of optional extras
Our Peugeot Tipper body supports a wide range of bolt-on modifications to suit your particular requirements, either during initial manufacture or on existing vehicles.