Volkswagen Transporter Pick-up
THE MARKET LEADING DROPSIDE BODY FOR THE VOLKSWAGEN TRANSPORTER
Suitable for general freight, the Ingimex Dropside is a low cost, lightweight, high strength body with a market leading payload designed to EN12642 XL & EN12640.
Designed and tested to the latest European standards, fitted with an array of features as standard, and easily adapted to allow for the addition of optional modifications; the Ingimex dropside is the perfect partner for your Volkswagen Transporter chassis.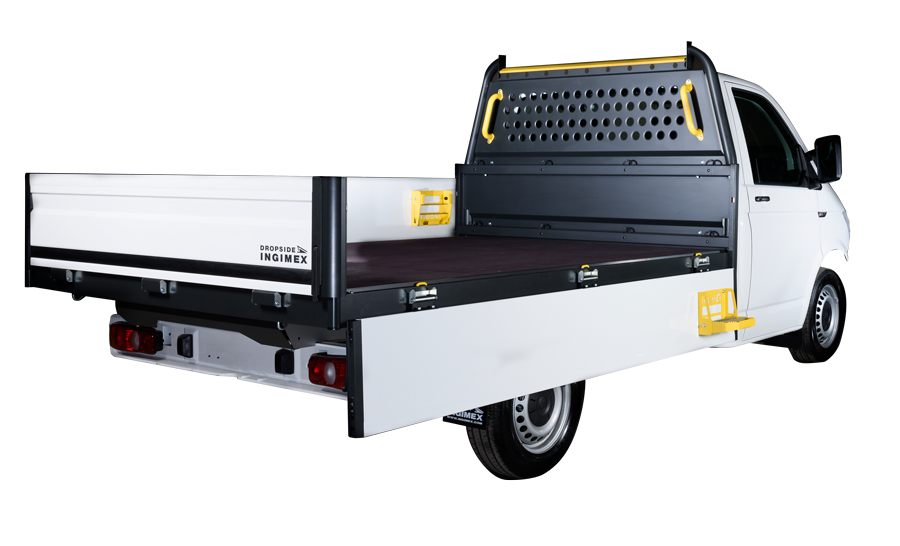 Curved gantry to suit the profile of the chassis

Powder coated aluminium corner posts extend above board height to form lateral stops.

Under-body stirrup step fitted as standard to allow easy access to the body

Board and lock assemblies have been tested to a burst load of 1.7 tonnes and are designed to out-perform steel welded equivalents.

Steel parts are either dip e-coated and powder coated or zinc plated to give the finish at least 500 hrs salt spray resistance.

Platform is a one piece, 15mm thick, full birch non-slip deck, top fitted for easy replacement and repair.

Designed, manufactured and tested in the UK

Comes with a 3 year Ingimex warranty as standard

Volkswagen Transporter
Chassis options
Suitable for general freight, the Ingimex Volkswagen Transporter Dropside is a low cost, versatile, lightweight vehicle with a high payload, available to fit a variety of Volkswagen Transporter chassis cabs and chassis crew cabs, see the table beneath for more detail and dimensions.
| CAB STYLE | S/C | D/C |
| --- | --- | --- |
| FRAME LENGTH | LWB | LWB |
| REAR WHEEL | SRW | SRW |
| (X)WHEEL BASE(mm) | 3400 | 3400 |
| (A)Internal Length(mm) | 3003 | 2236 |
| (B)Internal Width(mm) | 1868 | 1868 |
| (B)External Width(mm) | 1999 | 1999 |
| (C)Sideboard Height(mm) | 400 | 400 |
| (D)Tail-board-Height(mm) | 400 | 400 |
| (E)Overall Length(mm) | 5664 | 5664 |
| Payload (kg) | Up to 1200 | TBC |
Wide range of optional extras
Our Volkswagen Transporter Dropside bodies support a wide range of bolt-on modifications to suit your particular requirements, either during initial manufacture or on existing vehicles.